| | | |
| --- | --- | --- |
| | Repair Progress | |
The car went to MAACO getting painted. Final prep pics before delivery for painting:
Latest motor pics:
The header had nuts welded on to allow EGT measurement, then was wrapped with header tape, and the whole assembly coated with high-temp coating (from the tape supplier). This coating is supposed to protect the wrap from oils and water, to keep the installation fresh. The tape is moistened before wrapping to create a tight fit. Safety wire is used to secure most of it, to keep packaging to a minimium.
Pics of the header on the motor, then installed (note the tricky install angle ;).
It's finally progressing such that we can actually show pictures illustrating progress...
This was the major area in need of repair; the door's fine and the front fenders are nearly set as well.
Meanwhile, the trailer got BLUE... (thanks to Greg Steen and Scott Hansen for a GREAT job!)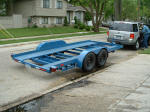 And, of course, what everyone wants to hear about - the motor!
New pistons and rods in... fitting up the crank scraper after installing crank and bearings
Removal of the old motor - notice use of stock lifting points... crank scraper fitted, oil pump pickup installed...
Tor, regular crew guy, on the left, rehydrating after a busy day... cleanup...
The final product.